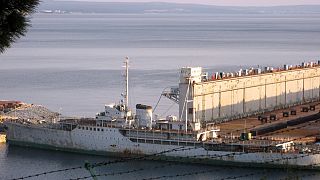 She looks like she's ready for the scrapyard - but a yacht in Croatia is being prepared for a multi-million euro refurbishment. The reason? Her illustrious former owner was President Tito of Yugoslavia.
In 1953 Tito sailed to London on the Seagull to meet Churchill and the Queen - today she's birthed in the Croatian port of Rijeka.
"Our idea is that the ship will be an important part of the programme which we have prepared for the European Capital of Culture for 2020," says Mayor of Rijeka Vojko Obersnel.
"The intention isn't for the ship to stay like this," says curator Kristina Pavec."It'll be renovated as a ship-museum, focusing primarily on the history of the ship, in each of the numerous phases of its life. The whole story is very interesting."
But renovation hasn't met everyone's approval. Croatian nationalists say Tito used autocratic rule to finance a life of luxury - and they want the vessel to be destroyed.