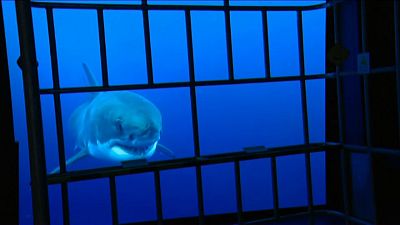 Europe's largest aquarium has opened in the north of France. An extension to the French National Sea Centre in Calais allows the building to house one of the largest tanks in the world, holding the equivalent of four Olympic swimming pools.
The highlight of the extension is a spectacular panoramic window.
"This window is five metres high, 20 metres wide and 38 centimetres thick," explains Philippe Vallette, Nausicaa's managing director. "It is a technical feat that was carried out in Europe which allows us to discover, not just a part of the aquarium, but a real part of the sea."
22,000 marine creatures will be added to the aquarium including hammerhead sharks, manta rays and shoals of fish.
The centre's role is to educate and encourage the general public to protect marine life for the future and to assess the impact of resources and how they can help with marine conservation.
The new €70m euro extension building was made in the shape of a manta ray and designed by French architect-oceanographer Jacques Rougerie who specialises in underwater habitats.
With the new building, the aquarium is hoping to attract one million visitors a year.