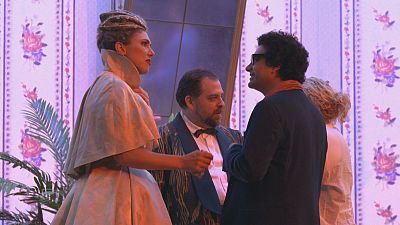 Rolando Villazón is one of the most versatile artists of our time.
Among other things, he's a famous tenor, a stage director and a novelist.
"Die Fledermaus" at the Deutsche Oper in Berlin is his sixth production as a stage director.
"Musica" had the opportunity to film the piano rehearsal and get a glimpse behind the scenes.
"I like to give my colleagues, the singers, as a stage director, a path - clear lines that they know exactly where they have to be, what are the movements they have to do, what is the reason why they do it, even gestures that they have to do," Villazón told 'Musica' reporter Katharina Rabillon.
"That gives them the placement and the geography, the movements, the choreography that allows the singer to be free."
For tenor Thomas Blondelle, this was no ordinary production.
"First of all, I have to say that working with Rolando was a dream. I already knew him, obviously, when I started. He was already a world star and now I get to work with this man, live!
"It took me three days to get over it and to say: 'Gosh, now I really have to get to work!' It's not enough to be just in awe."
Rolando's experience on stage is of great value to the singers.
"I really think that it helps," said soprano Annette Dasch.
"You can feel it with his caring attitude. He never crosses a certain line. When he sensed that: 'Oh, I can't push them anymore,' he let them go home. He also feels when somebody just needs a hug or a compliment. He really has great intuition."
"He knows what's important for singers," Blondelle added.
"He came incredibly well prepared and he knew what he wanted. At the same time, he was able to convey his ideas so well, that we, singers, were under the impression that we came up with them ourselves! This is really important and he is really good at that."
For Villazón himself, working on "Die Fledermaus" has been a deeply enriching experience.
"The rehearsal process is an exhausting, wonderful time. It's 15 hour days of thinking, of changing, of adapting with the energy and the ideas of the performers, with what you are seeing, so that you can give it as a present at the end. The closer to the premiere, the more the stage director is away from it," he said.