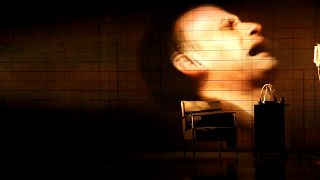 To celebrate the centenary of Igor Stravinsky's "The Story of a Soldier" La Fura dels Baus director, Álex Ollé, is bringing the tale to Lyon after its premiere in Switzerland.
It tells the story of how a soldier sold his soul to the devil to exchange his violin for a magical book that reads the future.
But the soldier discovers that he has lost three years of his life and that his beloved ones have forgotten him and so fights to get his violin back.
Álex Ollé says the story is very poignant.  He says; "This work imposes a reflection on the war and on the events that involve so many young people who go to these wars and who are ripped from their homes and their lives and many times can never recover."
Ollé aims to strike a balance between the story of a soldier from a hundred years ago and the stories of contemporary soldiers.
Narrator, Sébastien Dutrieux believes it has an ironic joy about the performance.  "There is a real violence and as an actor we naturally to love what we have to play, even if it's the most devilish of things," he says.
"So this devil - I love it too."
La Fura's Story of a Soldier will be performed in Lyon until the 29th April