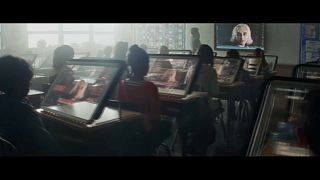 27/03/2018 17:35:34
Steven Spielberg's latest film Ready Player One is a science fiction adventure about a group of teenagers who spend their time on line maneuvering their avatars through a computerised wonderland called The Oasis.
Set in the future, the movie's hero, Wade Watts (Tye Sheridan), visits The Oasis to escape his miserable life in a trailer park. As his refuge comes under threat, Watts joins other avatars, including Art3mis (Olivia Cooke) and Aech (Lena Waithe) to solve a puzzle that could give them the power over the VR world.
The director says it harks back to his earlier blockbusters.
"I go back to the days when I was making 'Jurassic Park' and 'Raiders of the Lost Ark'," he explains."This is meant to be a crowd pleaser. I said often I directed this movie not from behind the camera but from within the audience."
Spielberg's next project is entirely different. He is teaming up with Spanish actor Javier Bardem to bring blacklisted Hollywood writer Dalton Trumbo's five-decade-old script about Spanish conqueror Hernan Cortes to the screen.