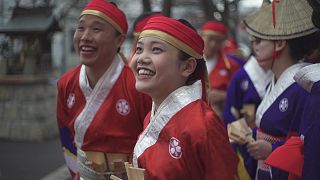 This year, France and Japan are celebrating 160 years of diplomatic relations. To mark this occasion, Paris welcomes "Japonismes 2018, souls in harmony".
This exceptional cultural program runs from July 2018 to February 2019, and boasts some 50 events in the Ile de France region: from traditional dance-drama – Kabuki – at the Theatre National de Chaillot, to the Jakuchu exhibition at the Petit Palais, the exhibition Manga Tokyo at La Villette to the screening of 100 Japanese films at the Cinémathèque française.
This series of events is inspired by "Japonisme", a craze that French artists had for Japanese culture during the second half of the 19th century.
"Japonisme is Japan, but it's also history. It is "Once upon a time Japan" explains Didier Fusillier, director of La Villette, which will host an exhibition from the teamLab artist group.
Folk dance and modernity
To get a taste of what awaits spectators during "Japonismes 2018", we went to Japan, to the south of Shikoku Island facing the Pacific Ocean, and more specifically to Kochi.
Since the 1950s, Kochi has made a name for itself by creating the Yosakoi, a festival of folk dance where traditional customs meld with modern culture. At the beginning of March, we went to the first spring shows. To find out more about Yosakoi culture, we followed the dancers of the Junintoiro group, who won first place at the last big dance contest in the city.
"Yosakoi was created in 1954 after the war," says Yu Shimasaki, a dancer with Junintoiro, "to cheer the residents of Kochi City with dance." His partner, Ai Urata, adds: "The elderly as well as the children all dance in the Yosakoi, this dance is anchored in the lifestyle and people love this dance and have practiced it from a young age," she says.
Akira Takahashi leads the group. "In Japan, there are a lot of festivals, but most of them are pretty quiet while Yosakoi is a festival where young, old, women and men can all participate freely," he says.
"I founded this team wondering what we could do to bring people together. We wanted to become the best of Kochi and Japan and our motto, since its inception 20 years ago, is: 'One hundred days of training, boils down to one moment.'"
During "Japonismes 2018", the Yosakoi can be seen at the Jardin d'Acclimatation in Paris in October.