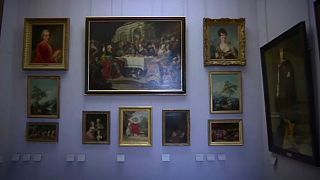 The Louvre Museum is putting 31 paintings on permanent display in an effort to find the rightful owners of those and other works of art looted by Nazis during World War II.
The Paris museum opened two rooms to display the paintings, which are among thousands taken by German forces in France between 1940 and 1945.
More than 45,000 objects have been handed back to their rightful owners since the war, but more than 2,000 remain unclaimed, including 296 paintings stored at the Louvre.
A working group set up by the Culture Ministry is in charge of tracing back the origins of the art and identifying owners. But it's a long and laborious task with only 50 pieces being returned since 1951.