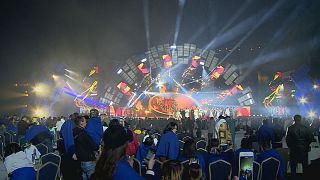 Keen to put its name on the map as the cultural hub of Kazakhstan and of central Asia at large, the city of Almaty organised and hosted The Star of Asia music festival.
The event was held in the outdoor Medeu speed skating rink, the highest ice rink in the world, where many records have been set.
The festival kicked off a month-long celebration of Almaty's cultural heritage, featuring cultural events and festivals, that attracted visitors from around the world.
Among the home-grown talent was singer and actress Kamshat Zholdybayeva. A huge fan of Bollywood music, she presented her own Bollywood-inspired show.
"For an artist it is really important to participate in such an international events because it gives us the opportunity to get acquainted and exchange experience with colleagues from other countries," she told Euronews' Wolfgang Spindler.
One of Kazakhstan's top rated music artists, Kairat Nurtas made his stage debut when he was just 10.
"I have more than 200 songs in my repertoire and I sing about things young people can relate to," he said. "When I give concerts in Kazakhstan, Tashkent or Moscow, tens of thousands of people come to my concerts," he said.
Sanah Moidutty is Mumbai's emerging star. The young singer-songwriter has made a name for herself both on the pop scene and by lending her voice to Indian romantic films.
"My musical background is actually classical, so I happen to do South Indian classical music which is called 'Carnatic' music and I also do northern Indian classical music known as 'Hindustani' music, so it's a mixture of both musical styles which come from India," she explained.
Chinese rock star Qing Xia Ling also won over crowds in Almaty with her charm and trademark smokey voice.
"I've loved rock music ever since I was a child. I used to dance a lot to rock when I was a kid. In China, rock music is very popular among young girls," she told Euronews.
Boy band band U-Kiss brought their K-pop energy to the stage.
Founded in 2008, the South Korean band is hugely successful in Asia, with millions of followers on Youtube.
Another artist who seduced fans in Almaty was Turkish singer-songwriter Murat Boz. After starting out as backing vocalist for other artists like German-Turkish celebrity Tarkan, he has become a star in his own right. Euronews asked him about the secret to his success.
"The point is to be original, and work hard. If you succeed in being original, you take off, nobody can stop you," he answered.
Two days of music, singing and dance, The Star of Asia went down as was a vibrant cultural event that confirmed Almaty's reputation as the city of a thousand colours.