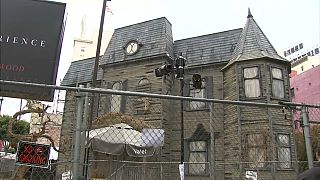 A haunted house, which suddenly appeared on a parking lot on Hollywood Boulevard, is fast becoming must-visit sensation for LA residents.
The attraction, created by Warner Bros to promote a new film version of the Stephen King horror "IT", allows visitors to get a taste of what to expect from the movie – mainly in the shape of demonic clowns.
"IT", made famous by King's book and a 1990 television series with Tim Curry, follows a group of kids as they try and stand up to the clown who has been murdering their young friends.
"The IT Experience" allows visitors to walk in the shoes of the children and go through a house full of chills, frills, frights and of course, clowns. Although it is free to experience, tickets have now sold out on-line.
"When you think about the fact that the reservations on the site were gone within 11 hours and that was before we built the house, so nobody knew what they were signing up for when they made those reservations and it filled up that quickly. People are really excited about the film and the house is just a nice extension of that," explained D.W McCann, on-site production manager.
The first trailer for "IT" broke online records when it garnered 197 million views in the first 24 hours.
The doors of the haunted house will remain open until the film's release in the US on September 8.