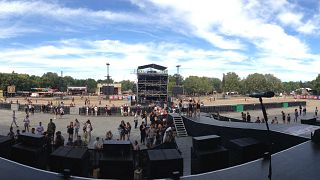 As Budapest's Sziget festival celebrates its 25th anniversary, one band is getting ready to perform on the main stage infront of thousands of fans.
Halott Pénz or Dead Money is Hungary's current top band and they are taking a short bus trip to the venue to prepare for the gig two hours later.
To perform in front of thousand of fans is an amazing experience but also a big responsibility, so they have to take care of every detail. It's an open-air event, so even the wind can be a risk factor.
'If there is a huge wind, for DJ-s like me, who use turntable insted of a CD-player, that can be a problem, because wind can blow the stylus off the record.'says DJ Venom of Halott Pénz.
The instruments are loaded to the main stage and prepared by the crew. The band then arrive an one hour before the show to reherse with the audio technicians.
Meanwhile, fans start to fill up the area in front of the main stage to get the best view of the performers.
When everything is ready the band leaves for a short time so they can come back fresh and focused.
On the 3rd day of SZIGET Festival the main stage performers after Halott Pénz (Dead Money) were Galantis, Iggy Azalea and Macklemore.