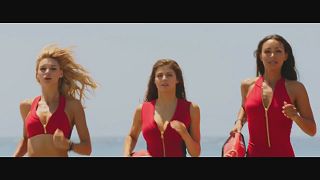 Fabled TV series Baywatch has been made into a movie starring Hollywood's highest-paid actor Dwayne Johnson, Zak Ephron
and Priyanka Chopra among others.
It benefits from a 69 million dollar budget, and bares more and shoots more than the TV version. It is also much more based on comedy.
It even features cameos from the show's original stars, David Hasselhof and Pamela Anderson.
While many reviewers have noted it won't make cinema history, most find it very entertaining, and stuffed with eye candy
for both sexes.
Johnson noted the film's makers had made a conscious effort to bring the concept up to date.
"We had a very diverse cast which plays very well to today's audience. It's very important, it's critical when you make a movie that you
have a big cast like this to make sure they're diverse and they represent the world," he said.
"It kind of revealed like this Malibu, California American dream lifestyle and glorified it in a great way so that magic we wanted to bring,"
said co-star Ephron.
Of course our heroes have more than just lives to save as baddies appear to be inevitably defeated.