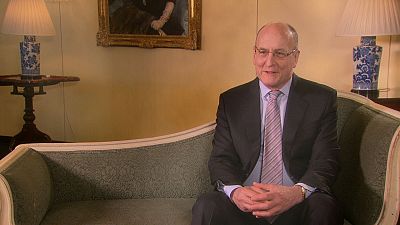 In this euronews Web bonus, Peter Gelb, general manager of New York's Metropolitan Opera, discusses his vision of the musical genre, an art form he has dedicated his life to.
In the same way movies have changed over 50 years...opera has to change as well.

GM, Metropolitan Opera
Peter Gelb, general manager, Metropolitan Opera
I'm now completing my eleventh season. The track record of the Met I think has been pretty good in terms of the success of our productions. The Met now is seen by more people around the world because of our live movie theatre transmissions than ever before in its history. I'm certainly proud of the fact that the Met's stature and global audience has grown under my supervision.
When I was still in high school, I was a usher at the Met, and I have been a producer of films and television programmes about classical music and opera, I've worked for some of the greatest artists of the last century, I managed the career of Vladimir Horowitz, I worked closely with Herbert Von Karajan, you know, my life has been devoted to connecting art to the largest number of people.
A good producer, which is, what I hope I am and what I strive to be, is somebody who has to think with both the left and right sides of the brain, you have to be creative and you have to be responsible.
We're very fortunate today to live in a world, at a time I should say, where artists understand that for opera to succeed in the 21st century, it has to be contemporary in its aesthetic approach. Which doesn't mean that operas have to be set in modern settings necessarily. In the same way movies have changed over 50 years, and theatre productions have changed, opera has to change as well.
I have a clause in my contract that says I have to be available on a 24/7 basis, which means I have to literally think, breathe, sleep … dreaming about the Met. This is my life.