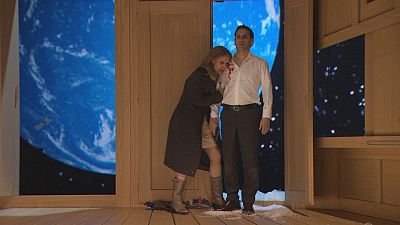 Forbidden love, wrongdoings and anguish: Zurich Opera House ventures into late 19th-century French romanticism with Werther, by French composer Jules Massenet.
...Werther is like a god falling on Earth and causing turmoil, and his energy puts other things in movement.

Stage director
A loose adaptation of Johann Wolfgang von Goethe's epistolary novel "The Sorrows of Young Werther", the opera is conducted by Germany's Cornelius Meister. It tells the story of the impossible union of poet Werther to Charlotte, a woman of duty already promised to a wealthy businessman.
Despair pushes Werther to commit suicide.
Peruvian tenor Juan Diego Flórez embodies a tortured and nuanced Werther.
Juan Diego Flórez:
"Werther is the masterpiece, of course. Musically, it's beautiful, it's gorgeous, you are transported into another dimension. It's like a big continuous … even lust and pleasure, because of the orchestration, the singing."
The one-room staging by stage director Tatjana Gürbaca cleverly renders the social stranglehold of oppression. Should one come into the fold or escape?
Tatjana Gürbaca:
"I think it's fascinating that it's one of the rare operas not to be about pharaohs, geishas or crazy kings. Rather, this piece takes place in Germany and it's set in a more or less normal family environment; it's a family story."
"The character of Werther is like a god falling on Earth and causing turmoil, and his energy puts other things in movement.
"He has a different view of the world and that's why the other characters, all at once, also have the opportunity to see the world in a crazy, twisted way, from another perspective.
"That has consequences, if you can see your life from a different perspective."
Franco-British mezzo-soprano Anna Stéphany plays a Charlotte riddled with the conflict between suitability and passion.
Anna Stéphany, mezzo-soprano:
"Until she meets Werther, her world is completely fine. And then, this sort of thunderbolt hits her. No matter how painful it is, but it's an incredible learning curve and she discovers this desire inside her that she never even knew was there.
"There are lots of emotions that she goes through that I identify with very well. In a relationship, even if you feel it's not right, there's always things that bind you there, whether it's less about duty and about society but it might be age or it might be suitability… So I think it's incredibly relevant."
Juan Diego Flórez:
"He's like a magician.
"He makes wonders with his presence, he makes appear the world and Charlotte can see it also."