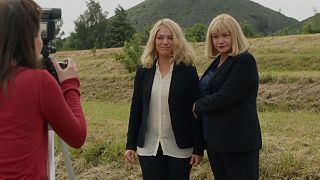 In Cinema Box this week we take a look at 'Chez Nous' a film which was inspired by the political party Front National led by Marine Le Pen.
Belgian director Lucas Belvaux goes behind the scenes to show the political campaign of an extreme right-wing party.The FN did not like it.
The new French film #ChezNous on a right wing party rise in France that makes the FN_officiel</a> angry <a href="https://t.co/acYuwzVLjT">https://t.co/acYuwzVLjT</a></p>— CIVIS Media Prize (CIVISMediaPrize) February 28, 2017
The film shows the political journey of Pauline, a nurse who is invited to run for municipal elections for a party titled 'The Patriotic Block'.
She is the daughter of a former communist militant, is a generous person who is loved by the inhabitants of a small town in the north of France.
'Chez Nous' portrays the manipulation strategies of the Patriotic Block to select candidates for local elections. The Belgian director also shows the links of the extreme right-wing party to violent and racist groups.
Even before being shown in theatres in France, the film was criticised by the National Front. Lucas Belvaux said he did not make anything up, that he wanted to make a film close to reality and that he has more legitimacy to talk about workers than Marine Le Pen.