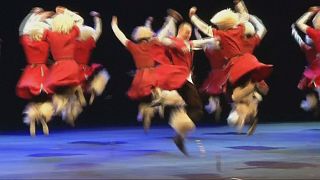 The Georgian National Ballet "Sukhishvili" began as a family enterprise, has survived communist oppression, the Cold War, the break-up of the Soviet Union and has grown into an internationally renowned company performing on the world's best stages.
It is almost 70 years since the husband and wife team of Iliko Sukhishvili and Nino Ramishvili created the first steps for the company in which their granddaughter is following.
"My family, they actually started to make the Georgian dance popular even among the young generation and that's very important, because I don't know any other country, where folk dance is so popular as in Georgia now. I think that it is the way, one of a very important ways to keep the identity of the nation," explained Nino Sukhishvili, Director General, Georgian National Ballet Sukhishvili.
via .judithflanders</a>: the Sukhishvili Georgian National Ballet rehearsing <a href="https://t.co/V4faAhb9W8">https://t.co/V4faAhb9W8</a></p>&mdash; mnl (dschungelengel) February 6, 2017
The dance school which feeds the ballet in Tbilisi is very popular. Young hopefuls want to learn the fascinating athletic dance.
But it is a hard work with long days of rehearsals to learn and perfect the unique dance techniques.
"When your work depends on your physical shape, which is the case for athletes or dancers, it's important to think about your legs, about your spine. Yes, there are no guarantees and anything can happen as it does not depend only on you. You should love it very much to do it well. There is no other way," said Pikria Kipshidze one of the dancers.
The ballet brings to stage the combination of elegant movements of the female dancers in vibrantly coloured costumes with the shows of strength, tornado fast spins, jumps, swords, shields and daggers of the male dancers.
It is a dazzling spectacle for audiences which have been entertained in more than one hundred countries.