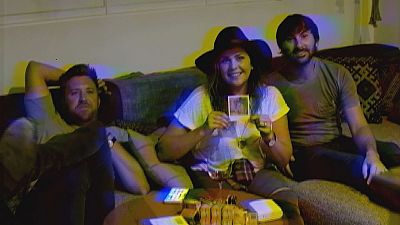 American country trio Lady Antebellum is back after a short hiatus with a new single "You Look Good," from their forthcoming album "Heart Break," coming out on June 9.
In 2015 Hillary Scott and Charles Kelley went in different directions on their solo albums , while Dave Haywood honed his skills as a producer.
So when they did reunite last year, they spent as much time together as possible in an effort to go back to their roots.
"We lived together for two months pretty much, half of it in Florida and half of the other time we wrote and recorded in Los Angeles, and we just got to be 24/7 in each other's space again, creatively as friends. Our families were around to kind of popping in and out. It was just back to the way that it was over ten years ago," said Hillary Scott.
After a decade together, five studio albums and numerous tours the band welcomed the reset.
Living together isolated for weeks without the pressure of performing every weekend and away from the daily demands of the music industry , allowed them to jump into more challenging musical material.
"When we came back together and we were down in Florida specifically all these ideas came out. I mean I think we wrote half the record, the majority of half the record in three or four days when we were down in Florida. It was just this kind of inspired time we wrote two songs a day sometimes," explained Charles Kelley.
"Nine songs in four days," added Hillary Scott.
"Everything kind of started pouring out and I think we were waiting for that moment," concluded Charles Kelley.
The new single mixes a dazzling horn section with a swaggering bass riff that reflects the band's sun-filled days in the Hollywood Hills and white sand beaches of Florida.
The band is off on their next world tour, starting in May.