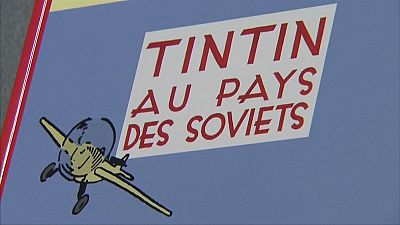 Eminent and distinguished Tintinophiles – yes fans of Tintin gathered at the Grand-Place in Brussels to celebrate that most famous Belgian reporter and adventurer.
An actor in the persona of the daring adventurer was there to re-enact the return of the hero from the land of the Soviets and to mark the launch of Herge's first cartoon published in colour.
#Tintin's debut adventure, In the Land of the Soviets, re-released in colour after 87 years https://t.co/VWIfpaCXRkpic.twitter.com/Ipnx2pElwI

— Firstpost (@firstpost) January 10, 2017
"I was very happy with the cartoons in black and white, but after all why not change to colour? You have to move with the times. It's the only album that was not in colour so maybe it's a good thing," said Tintin fan Marc Bosmans.
"Tintin in the Land of the Soviets" recreates the colours used in the subsequent comic books.
The nine volumes that followed this first story, including "Tintin in America" and "The Blue Lotus", initially came out in black and white but were re-released in colour from the 1940s by Herge, who then switched to colour-only cartoons.
"To me, Tintin represents my youth, some adventures. It's a collection, a passion, it's Belgium, it's a part of my life actually," said Jean-Francois Demaretz. another fan.
The adventures of Tintin have sold more than 230 million copies worldwide and have been translated into more than 80 languages and dialects.
The stories and characters were created by Belgian cartoonist Georges Remi, who wrote under the pen name Hergé. He penned the final one in 1983.