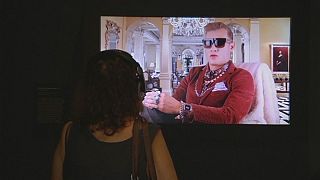 At the National Portrait Gallery in Canberra, artists are challenging the traditional concept of portraits as paintings or photographs. They are embracing the digital world instead.
Seven artists made it to the final of the 2016 Digital Portraiture Award, an event organized by the Gallery to explore new expectations of portraiture in modern art. The works of the finalist are now on display.
"More and more artists are working with digital media, screen based media, to explore, really, the very boundaries of what a portrait can be," explained Angus Trumble, Director, National Portrait Gallery.
Paul Mumme conceptual video-performance is one of the selected artworks. The work is a bizarre self portrait of a contemporary Australian artist.
"Why did I listen to my parents when they told me I could do whatever I wanted. So yes for a long time I have been seduced by the idea of quitting art," the artist says in his self-portrait.
Image of #homeless man in Oklahoma wins 2016 Digital #Portraiture#Prize at #National#Portrait#Gallery#Canberrahttps://t.co/Pue9KGeHfC

— Tulip Penney (@TulipPenney) December 2, 2016
The winning entry is a video portrait by Amiel Courtin-Wilson called "Charles" featuring the artist's chance encounter with a black person on the outskirts of Oklahoma City.
"It was a very spontaneous moment of connection. We got to speaking about him and his family, his situation in life, and we decided to shoot a brief portrait and it was all over in about an hour," explained the artist.
Another finalist, Lucas Davidson, created a self portrait, titled Body Emulsion Detachment. Images of his body are in turn recognisable and then morph into what looks like a floating piece of material.
"It becomes quite abstract but then you'll see an image of a hand or a face," he said.
More artworks on display include 'Four Walks' by Luke Aleksandrow and Transillumination (A Moment of Noise in Memory of Absence) by Kailum Graves
The Digital Portrait Award 2016 will be on display at the National Portrait Gallery in Canberra until 9 April 2017.