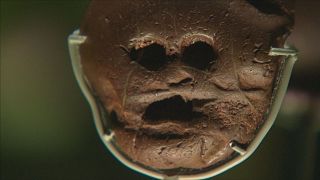 A multi-coloured BMW sits on a plinth in the British Museum. It is part of an exhibition which includes a Golden Rhino figurine.
They are exhibits in a British Museum exhibition exploring 100,000 years of South African art. It includes 200 objects arranged chronologically from ancient history to the present day.
"Well, we wanted to do an exhibition about Africa and about art, and South Africa really emerged as the location that both has the archaeology that demonstrates some of the earliest artistic thought and practice of anywhere in the world and also has one of the most vibrant contemporary art scenes of anywhere in Africa.
'It's increasingly being recognised by museums and galleries around the world, so we decided to link these two narrative points into a history of South Africa, through artworks," explained John Giblin, Head of The British Museum's Africa Section.
There's so much to see, read and watch inside the 'South Africa: The art of a nation' exhibition pic.twitter.com/BBJBBTnM6c

— Veena Camella Ramjet (@VeenaRamjet) December 3, 2016
Highlights include a hand axe from Kathu Pan in the Northern Cape And the Makapansgat pebble estimated to be three million years old.
It was found near the remains of Australopithecus africanus, a very early ancestor of humans.
"It's important, we believe, because it's not from Makapansgat cave where it was found. It could be from a location up to forty kilometres away. The question is, is how did it get to that cave? We believe it was carried by those Australopithecus africanus and why was it carried there? We believe it was carried there because of the face-like features on the stone."
'Those features are natural, they've not been made by human hands, they've been made by water action. So we believe that the stone was picked up and carried because of the way that it looked, because this Australopithecus africanus saw what looked like another face in that stone," said John Giblin.
Other highlights include colonial art from the 17th century; highly charged 20th-century works that responded to segregation and apartheid.
There are exhibits too that showcase the post-apartheid transformation since 1990.
"South Africa: the Art of a Nation" runs until February 26, 2017.