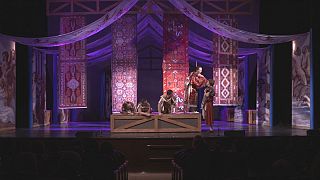 An International Theatre Conference held in Baku is devoted to multiculturalism.
Baku to host 4th International #TheatreConferencehttps://t.co/k8UaRujLxE

— AzEmbKorea (@AzEmbKorea) 5 November 2016
Theatre professionals from more than 40 countries have come together to exchange ideas on the direction of the art form.
Maysa Zaky is an Egyptian critic and actress:"In Egypt now, after the revolution, the theatre is very active, especially in the youth sector. The young artists want to participate in the new Egypt. They want to make sure of their right of the freedom of speech."
Topics on the menu include the impact of social media, inter-cultural dialogue, philosophy, as well as the influence of current affairs and issues such as censorship and migration.
Pavel Rudnev is a Russian theatre manager and critic:"I came to Baku to do a presentation about migrants, and this was a good subject, because many people here are talking about refugees and the theatre of war. Here and there – wars are constantly erupting, all consequences of a dearth of multiculturalism. When you are a migrant, a person who lives where he can, how does this loss of home influence a person's spirit? Today many plays in the post-Soviet space are about this."
Delegates were treated to performances by Azerbaijani theatre companies along with a Russian language performance of 'A Midsummer Night's Dream,' by William Shakespere.
Irina Antonova is a threatre critic from Kazakhstan, she realises the importance such conferences:"The foundation of multiculturalism is freedom. Freedom which for me as a critic rests in the opportunity to travel and work in Kazakhstan, France, Azerbaijan, everywhere, to work with all artists, and absorb their culture and understanding of theatre. Every conference is incredibly enriching. Enough for a year!"