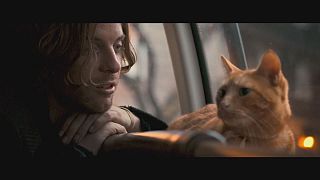 A Street Cat Named Bob is a story about redemption.
I'm so grateful to this 'little man' that has given me all these opportunities

Co-author/movie subject
We meet James Bowen, a British busker and recovering drug addict, whose life is changed one night by a fortuitous encounter… with a cat he goes on to name Bob.
With 500,000 Facebook followers, meet the world's most famous cat – a street cat named Bob #NationalCatDaypic.twitter.com/Tl3aRKRZAl

— The Telegraph (@Telegraph) October 29, 2016
Bob plays himself in the majority of the film, while Luke Treadaway stars as Bowen with actress Ruta Gedmintas as his girlfriend. The actors spoke about the felines involved in the making of the movie.
Treadaway: "There are a couple of other cats in there as well…"
Gedmintas: "Stunt cats…"
Treadaway: "…that do brilliant stunt work, jumping on and off buses and things, but Bob was the one that could comfortably sit on my shoulder when I was in Covent Garden busking and stuff because obviously he's got many years' experience, more than me."
After living rough on the streets of London, Bowen was given a fresh start in 2007 when he enrolled in a methadone programme and was offered a place to live.
But it was a chance meeting with a special cat that gave Bowen hope to put his life back on track, something the former addict is very thankful for.
Bob followed the budding musician everywhere, including Covent Garden where Bowen busked. The double act became a hit.
Bowen was on set for much of the shoot.
Bowen, the co-author/subject of A Street Cat Named Bob explained: "I'm just so grateful to this 'little man' that has given me all these opportunities and that he's changed so many people's opinions around the world. So I'm really hoping this film reaches the audiences that it needs to and I hope they enjoy it as much as we enjoyed making it."
Actress Ruta Gedmintas commented on having Bowen around on set: "James is such a wonderful man and he was so excited. And to have him there around, as I say, at the beginning it was strange but then this is all for him, it's all because of him. So to have him on set lent it a sense of gravitas really and any moments where it started to get a little bit too filmic, you'd realise that this is a real person, a real story."
Directed by Roger Spottiswoode, the Sony Pictures-released film also stars Joanne Froggatt as Bowen's drug support worker and Anthony Head as his father.
Based on the best-selling book of the same name, the movie is out across Europe from early November.