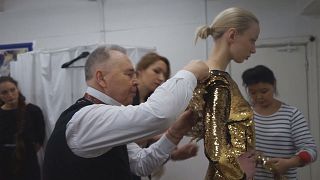 Fashion week in Moscow presented works from over 70 designers from Russia, Georgia, Ukraine and other countries.
For the past 20 years Russian fashion houses have begun to make a name for themselves on the global stage.
The trailblazer was Slava Zaitsev, nicknamed the 'Red Dior,' he broke down Cold War barriers, his creations lauded in Paris.
See the complete Slava Zaitsev Spring 2017 collection from #MBFWRussia: https://t.co/Hfh83OvVZGpic.twitter.com/ygxhQBgYOi

— Vogue Runway (@VogueRunway) October 19, 2016
Despite his age Zaitsev still produces two collections a year.
His father was dubbed 'an enemy of the people' as a Soviet prisoner of war in Germany, he was sent to a Gulag after the war, as result Zaitsev was barred from most educational institutions.
He well remembers the Red Dior moniker: "It was published in Paris Vogue that Zaitsev is the Red Dior, but my boss wrote to the magazine, We have 60 Diors! 60 designers in a fashion house and all are Diors, so do not exaggerate'. It was 1965. My personality was demolished completely."
Backstage Slava Zaitsev presents Fashion Laboratory at #MBFWRussiapic.twitter.com/EYVClYrqFg

—

MBFWR

ussia (@MBFWR) October 15, 2016
Nevertheless, he was the first designer in the USSR to be allowed to put his label on clothing and in 1988 became the first Soviet designer to show his collection at the Haute Couture Week in Paris.