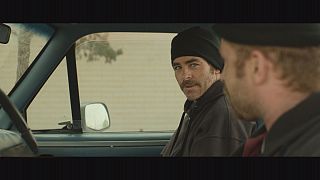 'Hell Or High Water' is a Western in the true sense of the genre. Set in Texas and filmed in the great outdoors. It has all the ingredients, native Americans, cowboys, a sheriff and bank jobs.
The year is 2010 and things have changed. Directed by Scot David McKenzie these days you rob a bank to pay back debts.
Go and watch Hell or High Water HoHWmovie</a> NOW! Really enjoyed this one. <br>Loved how realistic it felt. Great directing by <a href="https://twitter.com/davidhmackenzie">davidhmackenziepic.twitter.com/ys7u9B0jsK

— Sam Pilling (@sampling45) September 29, 2016
Two brothers, just out of prison, have a few days to repay a loan or lose their small family holding. They decide to rob a branch of the Texas Midland Bank.
Hell or High Water was by far my favorite film of the year and the diner scene with Margaret Bowman was solid gold. #HellOrHighWaterpic.twitter.com/lyKF9PDVMl

— Anna Schatte (@AnnaSchatte) September 24, 2016
'Hell Or High Water' is more than just an action movie. It is a film about brotherhood, about social justice, morality and redemption. It is filmed in a subtle and empathetic manner. One almost forgets the adrenaline roller coaster ride.
The film is intense, simple and complex, not to be missed.
Enjoy.