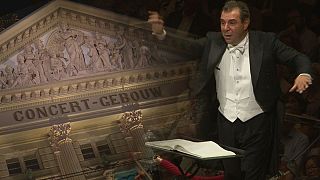 Amsterdam's Concertgebouw is one of the most prestigious orchestras and concert halls in the world. This season opened with an unforgettable performance of Gustav Mahler's Second Symphony under the baton of the new Chief Conductor, the Italian maestro Daniele Gatti.
All ready for Mahler 2 with Daniele Gatti and Concertgebouworkest Concertgebouw</a> <a href="https://t.co/he7o5HVCvs">pic.twitter.com/he7o5HVCvs</a></p>&mdash; Joost Röselaers (Roselaers) September 16, 2016
Maestro Gatti spoke to Euronews.
Chief Conductor – Daniele Gatti
"The Royal Concertgebouw Orchestra is at the centre of cultural and musical life in Amsterdam. Still, I always say that this orchestra belongs to the world, because an orchestra at this level doesn't only belong to this city, it's part of my country too, it's part of Europe, it's part of the whole world."
Our 6pm Symphony: Dvorak's #9 "From the New World" from the Royal Concertgebouw Orchestra. https://t.co/f7hdjJOq1Qpic.twitter.com/QkhGZkzYCP

— 90.9

WGUC

(@909WGUC) June 9, 2016
Maestro Gatti's versatility, his being at ease with composers from both the late 19th century Viennese school and the late Romantic French repertoire, are what make him the ultimate choice for seventh Chief Director of this illustrious orchestra.
The Royal Concertgebouw Orchestra took a democratic path to choosing Daniele Gatti as chief conductor https://t.co/8Y8BvBArHt

— Irish Times Culture (@IrishTimesCultr) August 24, 2016
RCO's Managing Director Jan Raes told Euronews: "We expect many things because we know Daniele Gatti is very gifted, very passionate, he has a broad repertoire; he's a very genuine, curious person; he likes to reach real people in live performances, and also to invite people and youngsters to rehearsals."
RCO Meets Europe – National Youth Orchestra of Ireland Part 2 너무 부럽다 플레이어가 양심적일 땐 진정 빛을 발한다 https://t.co/3PWTXahDFp

— 빛 속에 아롱이 (@boho788910) August 31, 2016
Opening rehearsals were recently followed by a welcome ceremony in which the friends of the orchestra made a special offering to their new conductor.
Chief Conductor – Daniele Gatti
"I've just been given a special gift, a bicycle, which is the symbol of this city. I'm very touched: after all, I've been here for only a month and the welcome has been so warm… such a nice surprise!"
Gatti went on to explain to Euronews what his hopes for his orchestra's audiences are, saying: "I'd be so pleased if those who came to the concert hall did so to 'cocoon' themselves, and said: 'well, for the next two hours I'll be enjoying music; I'll turn the mobile phone off, and try to enter a different dimension'… After all, this is what listening to classical music is about for me: I use my imagination to slow down the frantic pace of my life, and reflect upon certain aspects of myself… even aspects that frighten me."
As Mahler's Second progresses over its five movements, it takes on a metaphysical, spiritual dimension.
Chief Conductor – Daniele Gatti
"Once I get to the last movement I realise there are questions for which the answers are increasingly difficult to find as you grow old; still, I can't deny that this piece helps me not to fear "Tomorrow", with a capital "T". I also hope that those who are not believers could be touched by this music and start asking themselves certain questions."