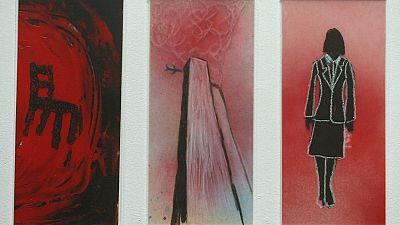 An exhibition of art inspired by the attacks on the World Trade centre is opening at the 9/11 Memorial Museum in New York to mark the 15th anniversary.
The exhibit features paintings, sculptures, videos and more from 13 New York-based artists, whose lives were affected by the attacks. One lost a brother in the attacks, others lost friends.
"It gives you that immediacy of the emotional truth of that moment, and you see through another person's eyes and through their artistic practice, how they struggled with the very same emotions that all of us felt," says Alice Greenwald, director of the 9/11 Memorial Museum.
Among the exhibits are several hundred paintings by Brooklyn-based artist Manju Shandler. They are part of an installation entitled 'Gesture', created over three years and made up of 3,000 pieces, one for each person who died in the attacks.
"I was shocked and scared and overwhelmed like most New Yorkers, I think. A few days later, I returned to my studio, and I don't even remember what I was making, but I started this. I felt like this… I had the idea that I would do one painting for each person who died and at that point, we really had no idea how many people it was going to be," she explains.
Artist Gustavo Bonevardi witnessed the collapse of the towers from his home a few blocks away. The idea for his multi-panel drawing called 'Falling' came to him unexpectedly, years later.
"That image of pages floating in space was what everyone saw who was down there as the towers were burning – all around this beautiful, crystal-clear blue sky and these pages just like lyrically floating in space, and it was actually quite beautiful," explains Bonevardi. "And somehow it seemed like it was the souls of people being released or memories being lost. There was something very… very striking about it."
'Rendering the Unthinkable: Artists Respond to 9/11' runs from September 12th at the 9/11 Memorial Museum in New York.