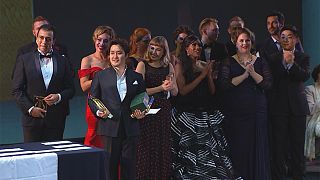 Guadalajara, in Mexico, has been hosting the 24th edition of Operalia and, more than ever, it's been about excellence.
We chose 12 finalists. Officially there should be ten. But there are so many great voices that we just couldn't let go of at least two more
Deciding among the 40 candidates – already selected out of a thousand – was no easy task for the jury of the prestigious singing competition founded by Plácido Domingo.
"Plácido Domingo himself has told us, the jury, that he's never seen anything like that in all the years of existence of Operalia, that so many singers are so highly talented," said Marco Parisotto, Music Director of the Teatro Degollado.
"You know, we chose 12 finalists. Officially there should be 10. But there are so many great voices that we just couldn't let go of at least two more, you know."
Vocal power, charisma and elegance: 30-year-old South-Korean tenor Keon-Woo Kim and French-Danish soprano Elsa Dreisig, who's 25, finally won over the jury and the public – scooping the top prizes.
.elsadreisig</a> and Keon-Woo Kim win <a href="https://twitter.com/operaliacomp">operaliacomp 2016 https://t.co/dmK3tKqq7m

— Opera Now magazine (@Operanow) 25 July 2016
"Oh it's good, it's really really good! Now, I'm a beginner, so, at first, emotions are really tough, at first, emotions… I'm scared, exactly scared!" said Keon-Woo Kim, who decided he wanted to become an opera singer at the age of nine, after seeing Domingo sing at Seoul's Olympic Stadium.
Kim also won the Audience Prize at Operalia.
Elsa Dreisig's mother is a soprano, as are several members of her family. She commented: "We're all wondering, well, who's going to win? And it's a lot of work, but also a great pleasure."
Operalia President Domingo said: "They were really, in the first selection, in the semi-finals and today, very strong. Sometimes it's not like this, sometimes there is a surprise, you know. Somebody comes all of a sudden from nowhere and wins. No, I think they were very constant, very constant you know."
Operalia has been taking place in Guadalajara for the very first time.
It's a journey down memory lane for Spanish tenor Domingo, who lived there in his youth.
The 75-year-old has a long history with the Degollado theatre – this year's venue.
He started singing there when he was 16 and went on to perform there many times, including for the 100th anniversary of the theatre in 1966.
"Fifty years ago exactly, I was singing in this theatre for the centenial anniversary of the theatre. So it's amazing for me to be here, 50 years later and be still in action, you know! So this is wonderful!" he said.
With the opportunity to perform in front of the most important opera houses directors, Operalia can really boost careers on the international stage.
The winners can make their dreams come true.
"I have a dream role in opera. Especially I really really really like Romeo in Romeo and Juliet by Gounod," said Keon-Woo Kim.
Elsa Dreisig added: "Now, what I'm hoping for is to sing on stage. I like competitions, I have to say that I find pushing yourself beyond the limits is agreeable, but nothing compares to singing on stage."
Operalia Awards 2016
First prize: Keon-Woo Kim, South Korea/Elsa Dreisig, France, Denmark
Second prize: Bogdan Volkov, Russia/Marina Costa-Jackson, Italy, USA
Third prize: Rame Lahaj, Kosovo/Olga Kulchynska, Ukraine
Birgit Nilsson Prize: Brenton Ryan, tenor, USA
The Pepita Embil Domingo Prize of Zarzuela: Marina Costa-Jackson, soprano, Italy, USA
The Don Plácido Domingo Ferrer Prize of Zarzuela: Juan Carlos Heredia, baritone, Mexico and Nicholas Brownlee, bass-baritone, USA
Audience Prize: Keon-Woo Kim, tenor, South Korea/Elena Stikhina, soprano, Russia
Culturarte Prize: Elena Stikhina, soprano, Russia
MT Truelinked</a>: Keon-Woo Kim from South Korea wins first prize at Operalia <a href="https://t.co/ycjt6qiJag">https://t.co/ycjt6qiJag</a> <a href="https://t.co/rjDZY6seBs">pic.twitter.com/rjDZY6seBs</a></p>&mdash; CLASSICAL20.COM (classical20) 26 July 2016
Alumnus Brenton Ryan '11 wins the Birgit Nilsson Prize at Operalia competition in Mexico. https://t.co/eA0GPG2n1dpic.twitter.com/Y8ckQBnCEg

— Shepherd School (@ShepherdSchool) 28 July 2016