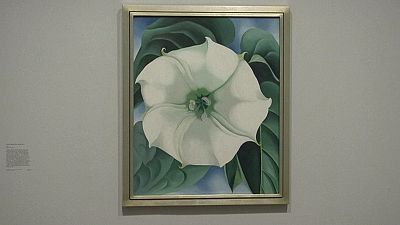 One of the highlights of Tate Modern's new retrospective exhibition dedicated to Georgia O'Keeffe is a piece called Jimson Weed, White Flower.
It's the most expensive painting by a female artist ever sold at an auction and one of the most expensive works of American Art.
It fetched $44,405,000 at Sotheby's American Art sale on November 20, 2014.
O'Keeffe (1887-1986) is best known for her paintings of blooming, vibrant magnified flowers, but that's not all she painted, says Cody Hartley from the Georgia O'Keeffe Museum.
"The flowers, of course, are the best-known – that's true in the States as well as overseas – but this show makes it so clear that the flowers are just a portion of her creativity, just one small subject in a life of amazing material."
The show includes 115 major works, along with preparatory sketches, sketchbooks and photographs.
O'Keeffe, who died in 1986 aged 98-years-old, had an exceptionally long career.
It took her from her native Wisconsin to bohemian New York – where she absorbed and practised abstraction and surrealism – and finally to New Mexico, whose fiery landscapes inspired her later work.
One of the exhibition's star works is "From the Faraway, Nearby," a lavishly antlered skull in a mountainous landscape tinged a delicate blue, pink and orange.
Tanya Barson, Exhibition Curator at Tate Modern, explains why O'Keeffe was intrigued by the American landscape: "She loved this sense of horizon, of infinity, of wide-open space.
"And she called this 'The Faraway'. So the landscape in New Mexico embodied this concept she had that she called 'The Faraway' and I think she thought that that was what was unique about the American landscape, this sense of space."
The Tate's retrospective is the largest and most comprehensive exhibition of O'Keeffe's artworks ever staged in Europe.
It runs until 30 October 2016 at London's Tate Modern. It moves to Bank Austria Kunstforum in Vienna from December 7 to March 26, and the Art Gallery of Ontario in Toronto from April to June 2017.