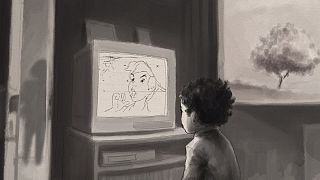 Life Animated is the touching story of Owen Suskind, who at the age of three is diagnosed with regressive autism and loses his ability to speak.
The family find a way around his loss by immersing themselves into a world of animated movies.
The film was inspired by a 2014 bestselling book by Owen's father Ron, entitled Life, Animated: A Story of Sidekicks, Heroes, and Autism.
His father feared that his son would be thrown on life's scrapheap: "Owen, you know, here's a kid who was silent for years, really thrown in society's discard pile, deemed ineducable, 'Don't hope for too much for him. He may never speak again. He'll probably be institutionalised.'
"And all of a sudden here he is emerging, as he says 'a sidekick who found his inner hero'."
Ron says the lightning bolt moment came while watching Disney films and Owen says that does not want grow up like Mowgli or Peter Pan.
From that moment they used animated movies with the help of a therapist to relate to real situations, develop "inner speech" capacities, and connect to others.
His father adds: "The question was, would a book like the one we wrote and now a movie, would it have helped us 15 years ago when Owen was diagnosed with autism when we were just in a place of fear and confusion and hell really, not knowing what we were seeing and what to do. And of course the answer to that is yes."
The film captures Owen at universal crossroads, such as when he's graduating from school, moving out of his parents' house, finding (and losing) a girlfriend and getting a job at a movie theater.
"Life Animated" is out in the US now and will be released in the UK in December.