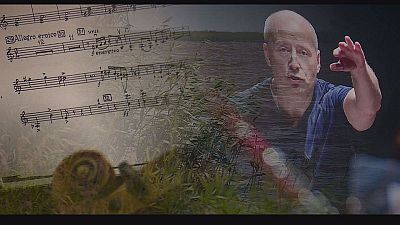 Being by the shores of the Baltic Sea is special in itself. Now, imagine the magic of Sibelius' Violin Concerto, evoked by Viktoria Mullova's art.
If you conduct a Sibelius' symphony, if you conduct a Mahler symphony... you have no right to complain, you are a lucky man!
Such delights are brought together each summer in Pärnu, Estonia's cultural capital. Thanks to its music festival created in 2010 by its famous conductor Paavo Järvi together with his family; different generations united by the same passion.
Pärnu has always been a crossroads for artists and musicians; a renowned seaside resort in the past, today back to its former glory, it boasts picturesque dachas and listed sights, such as the Ammende Villa, a Liberty building where "Musica" had the chance to meet Paavo Järvi.
"I grew up in Tallinn but every summer for three months we spent our holidays in Pärnu. It was not unusual for us to see famous violinist David Oistrakh. I even met Dmitri Shostakovic, and various artists like Gidon Kremer", Maestro Järvi explained.
"I bring here my kids who live in America, and they now say 'Papa, we're going home'. There's nothing better for me if I hear them saying 'we're going home to Pärnu'. That means something as an Estonian, of course," he added.
One half consists of Estonian musicians, the other is made up from artists Paavo met during his successful conducting career, the festival's orchestra is now ready to take flight and start touring Europe.
"As little as we get some sleep here, and as much as we work here, somehow there is an enormous sense of accomplishment, and adrenaline, and good music-making; every summer I am richer by getting to know very close and personally some of the greatest musicians that are alive today," said Järvi.
Apart from the dissemination of contemporary pieces and music from Nordic countries that are barely known, such as Nielsen's Second Symphony, the festival boasts the Järvi Academy, a series of master classes given by brothers Paavo and Krjstian, and their father, the celebrated Neeme Järvi, a peerless teacher.
"Conducting is such a combination of everything, he says. My eyes are telling you something: 'Do that!'… 'Make that!'" said Neeme Järvi. "Your wishes and your eyes… you have to talk with… I'm talking to you, now… I'm talking to you, now! Ok, you see, I'm doing something with my eyes, and you're laughing already, why? Because I'm talking without saying anything!"
Loyal to its philosophy, the festival has also presented a contemporary piece by Estonian composer Erkki-Sven Tüür.
"We are lucky, us conductors, because we wake up in the morning and after a cup of coffee our so-called job is to deal with the greatest geniuses that have ever lived: Mozart, Mahler, Beethoven… so, that's not a bad job, actually. If you conduct a Sibelius' symphony, if you conduct a Mahler symphony… you have no right to complain, you are a lucky man!"