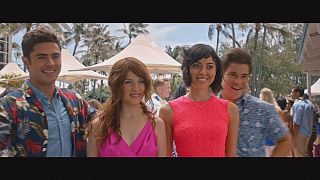 Mike And Dave Need Wedding Dates follows two hard-partying brothers, played by Zac Efron and Adam DeVine, who place an online ad looking for some well-behaved dates for their sister's wedding in Hawaii.
The comedy is actually based on a true story of brothers Mike and Dave Stangle who joined the actors at the premiere in Los Angeles.
The siblings get more than they bargained for after they choose the secretly wild Alice, played by Anna Kendrick, and Tatiana, played by Aubrey Plaza.
Instead of finding a pair of so-called 'good girls' they meet two ladies who are even wilder than themselves.
"Mike and Dave Need Wedding Dates" is scheduled for its U.S. release on July 8.
Gallery | Red carpet premiere of 'Mike And Dave Need Wedding Dates' https://t.co/eGCHANs7tI

— ABC13News (@ABC13News) July 1, 2016