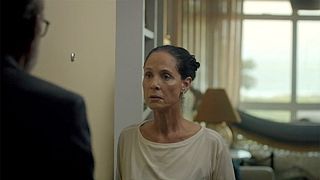 Aquarius was one of the most critically acclaimed films in Cannes this year. Brazilian director Kleber Mendonça Filho tells the story of an extraordinary woman struggling alone against a powerful real estate agency.
Clara, a 66-year-old former music critic who survived cancer, is enjoying her retirement until she is forced to go to war with a construction company that wants to demolish her block of flats to replace it with a luxury resort.
This film is based around the idea of memory. Clara refuses to leave the flat she has always lived in because it reflects who she is and tells her story.
The character played by Sonia Braga is a modern-day hero, a strong woman, sensual and independent who doesn't seek the approval of others, friends and family included, to stand up for what she believes in.
Sonia Braga is a real icon in Brazil and is also well-known in the United States where she has been nominated for three Golden Globes and an Emmy Award.
Aquarius, which will play in at least 50 countries, is a must-see Brazilian movies which addresses personal issues while depicting violence through social inequality, corruption and nepotism. I hope you enjoy the movie and see you soon.
First Trailer For Kleber Mendonça Filho's Cannes Drama 'Aquarius' Starring Sônia Braga https://t.co/IXXvcrBKCZpic.twitter.com/MNlIUbjn6e

— The Film Stage (@TheFilmStage) June 27, 2016