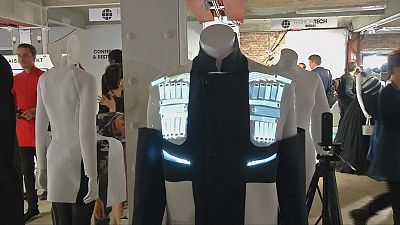 Berlin fashion week has been showcasing its "Fashion Fusion" and "Smart Fashion" exhibits designers hope set the pointers for the future of what we will all be wearing.
Local designer Anja Gockel also celebrates 20 years of her label with a special anniversary show.
"Fashion Fusion" wants to help pioneering new forms of technologically enhanced fashion, wearable technologies and everything in between.
The idea is to develop relevant, functional, sustainable and sought-after smart fashion and services that enrich peoples' lives in the long term.
"The great thing in fashion design is that it can tell a story. They have an emotional power. And the great thing in technology is that everything is possible. What do you want to build? Which functions do you want it to have? Alone, just for themselves, they cannot afford such a new production chain. But together, everything is possible," says Fashion Fusion curator and CEO of Electro Couture Lisa Lang.
Germany has to up its game or it will be left behind says the Head of Berlin's German Design Research lab.
"Germany actually does have all the components: we have great experience in the area of textile design, we have great experience in the area of microelectronics. But they don't manage to bring both together. And now this is the moment where we can bring it together and together shape those new forms of interaction. But we really need to get going because the competition does not sleep and Silicon Valley is busy creating as well. So Germany really has to get going," says Professor Gesche Joost.
Centrepiece of this "Fashion Fusion" initiative is a pan-European ideas competition throughout the year open to talents from fashion and technology. The best team wins prize money of 20,000 euros and a chance to take the collection to market. The collection will then be presented at the Berlin Fashion Week next January.
Gockel's anniversary Spring/Summer 2017collection had a little political element. The show featured a colourful collection of light fabrics, with several models walking the runway with flags of various countries tied to their arms or around their waists.
The 48-year-old was already as a child fascinated by art and was drawing and painting almost every day. She studied fashion in Hamburg and then after graduating from the world-famous Central St. Martins fashion school in London she worked a year for Vivienne Westwood and then founded her label in London before moving back to her hometown Mainz in 2000.
Amongst her clients are Queen Silvia of Sweden and many German celebrities from the world of television and the arts.
One big surprise for this collection was male bridal wear in the rainbow colours of the LGBT movement.