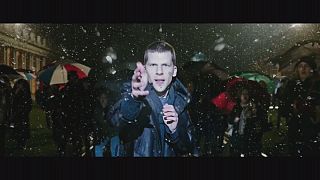 2013's "Now You See Me" did the business at the box office making over 350 million dollars, so the producers are hoping the formula does the trick again with the imaginatively titled "Now You See Me 2".
On board again for another ride are actors Woody Harrelson and Mark Ruffalo. Ruffalo sounds as though he has unfinished business with the story.
"Because the first one just wasn't as awesome as it could have possibly been."
"Well stated, well stated," agreed Harrelson. "It felt like the second one was better."
Jesse Eisenberg, Dave Franco, Michael Caine and Morgan Freeman also return, but making a villainous entry to the would-be-franchise is Daniel Radcliffe.
"It's like an action adventure thriller, maybe, yeah, I'd go with that. That's the thing, it's not like – we're not like a shoot-em-up. But there are some amazing action sequences," says Radcliffe.
So, no pottering about with filler, then. A change in director means Jon M. Chu has been trusted to whip the story into life, and he's already announced as the director of "Now You See Me 3". There's no illusion in numbers, and right now the fantasy formula is paying off.