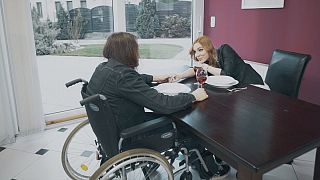 Raising awareness about multiple sclerosis through music: Zoltán Nagy is the lead singer of Hungarian rock band The Ruling Passion.
Himself a sufferer of multiple sclerosis, he was diagnosed with the illness 14 years ago and is now in a wheelchair. Multiple sclerosis is an incurable disease of the central nervous system that affects the brain, spinal cord and optic nerves. Zoltán says he wanted to write a song about his fellow sufferers, but not of the sad kind.
"I wanted to send a positive message to people suffering from the same disease. I didn't want it to be negative. Slow, lyrical songs make you want to cry, but I wanted to write something upbeat and encouraging," he told Euronews.
A carpenter, Zoltán used to sing in a rock band in his spare time but stopped when he fell ill. He says he felt ashamed. He continued working until four years ago, when he became wheelchair bound and had to move back in with his parents. He says he rarely goes out.
"It came as a surprise to me to see how fast my health deteriorated. Soon I was out of work and I was sitting home and I couldn't do anything," says Zoltán.
But around a year ago, his old friend and fellow musician, Péter Dávid, reappeared in his life. They started writing music together, including the track about Zoltán's disease.
They decided they want to help people suffering from multiple sclerosis, not only in Hungary but around the world. So they made an English version of the song, which was launched on World Multiple Sclerosis Day.
Hungarian rockers The Ruling Passion have released a new track for World MS Day #strongerthanMS#WorldMSDayhttps://t.co/MjhxaX7NPA

— World MS Day (@WorldMSDay) 25 mai 2016
Millions of people suffer from MS in the world – there are an estimated 8,000 sufferers in Hungary. The earlier a patient is diagnosed, the better they can get treated. But Zoltán's doctor at Uzsoki Hospital, Gábor Jakab, also strongly believes that music and other forms of expression can help.
"The solution is not always in a prescription. Each person has to find his or her means of expression," says Dr Jakab. "I hope that Zoltán's story will reach a lot of people and help them find the power within that was dormant or lost and can help improve their quality of life."
This power Zoltán has found in music, which has given him renewed hope in life.
"Since I started playing music again, I've been really happy. It's like thumbing my nose at my disease," he says with a big smile.
Zoltán and his band are now planning some live gigs and also want to record a CD.