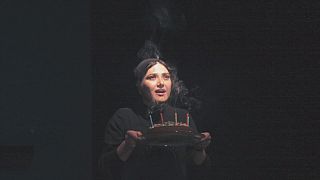 Some of the finest theatre companies and dance groups from Turkey and around the world are gathered in Istanbul for the International Theatre Festival.
One of the highlights of this year's programme is Iranian Theatre Company Shieveh's play 'Ham Havâyi' (translated as 'Acclimatization' or 'A bit further every day'), an intimate portrait of three women in modern day Iran. The title refers to the way the human body adapts to changes in its environment and is a metaphor for the way women in Iran have to adapt to a society in constant evolution.
Euronews met the play's acclaimed director and former actress Afsaneh Mahian.
"In a way, you could call this documentary theatre: we have used true events and have adapted and dramatised these stories on stage," she explained. "It is about the social problems faced by Iranians and it has a feminine structure because all the characters are women, and they talk about their lives and daily events that occur in their lives."
Kicking off with the Turkish production of Samuel Beckett's 'Waiting for Godot', the festival includes 90 stage and dance performances by companies from across Turkey but also France, Germany or the UK, as well as panel sessions, masterclasses, workshops and tributes to the the 400th anniversary of Shakespeare's death.
The festival runs until May 28.