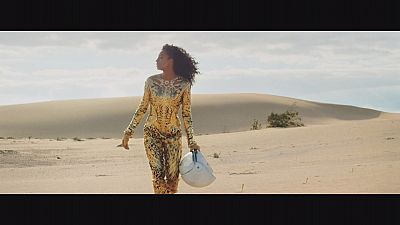 British singer-songwriter Corinne Bailey-Rae has seen the heights of love and sorrow in her 37 years, widowed young and remarried, she has taken the hard knocks with the high points and come out the other side with her third album of songs, "The heart speaks in whispers".
"Been to the moon" is one song lifted to be a hopefully hit single.
"This record has been a kind of re-discovery for me sort of of myself and my instincts and my dreams and my own body and how it can move and how I feel when I travel and how I feel when I go into a jungle and how I feel when I go swimming in the ocean and all of those things so I think it's really served as a reminder to me to stay sort of connected and stay true to your own dreams and desires and personality and instinct and memory and all those things," she says.
Album track "Green Aphrodisiac" is a tribute to nature as a source of life and inspiration.
"I wrote it in my garden and I feel like that's a real expression of one of the strong themes of the album, which is nature and the way that we are a part of nature, we're connected to nature and the way that nature kind of informs us and tells us how we're thinking and feeling and the way that we're cycles of nature, kind of soothes us and reminds us about the cycles that we have in our own lives."
The Grammy-winning singer is on tour in support of her new album now.