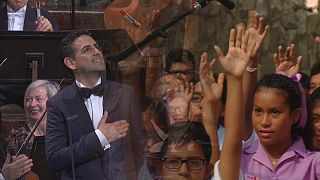 Juan Diego Flórez is giving disadvantaged children a bright future through the power of music.
Music can improve the lives of children of the youth and can really transform society in a great way.
Inspired by Venezuelan music network "El Sistema" the operatic tenor has created music schools throughout his home country Peru allowing thousands of children from low-income families to play an instrument or to sing in a choir.
"Music can improve the lives of children of the youth and can really transform society in a great way," Florez told euronews.
"They are learning generosity, they are learning discipline, they are playing for a goal, for excellence, for beautiful music."
"The most important thing is that they are acquiring attitudes and values for life."
Vienna 'Gala Latina' benefit concert
Florez recently hosted a benefit concert, the 'Gala Latina' in the Vienna Musikverein.
"It is important I think that the public knows what I'm doing also, Florez told euronews. "Because they know me as a singer but they might now know what I'm doing in Peru and I want to tell them."
Florez was joined at the benefit concert by a top class cast, including bass-baritone Erwin Schrott and mezzo-soprano Elisabeth Kulman – accompanied by the Balearic Islands Symphony Orchestra.
"I'm so moved," said Florez. "To see my colleagues sing and donate their efforts is fantastic because there is a special heart in it and you can feel it."
Erwin Schrott and Elisabeth Kulman were happy to playing a part in changing the children's lives for the better.
"It's for me always a pleasure to be invited to such an event," said Erwin Schrott. "Everybody together for Peru, for their kids, for the future. I'm just happy to be here and to be part of a dream, of a wish."
"I admire how Juan Diego is committed to the future of these kids," Elisabeth Kulman told euronews. "The children over there don't have many prospects but through music, through art and through learning they have a challenge in life, a purpose."
Juan Diego Flórez closely follows the progress of his protégés and feels very attached to them.
"Kids that tell me: I don't have a roof on my house yet or we don't have electricity, we don't have water and I have to walk 40 minutes to get to the music school but I'm happy. Before I was all the time sad now I smile," said Florez. "So this is very important. This makes your day."
"What do I wish for the future?," Florez asked. "To grow more, to give the opportunity to play, to sing, to fill the country with orchestras and choruses for many many more children."
For more information please visit:
Symphony for Peru
Friends of Juan Diego Florez
A few photos of this weekend's GALALATINA at Musikverein Wien.
Photos: Lukas Beck nadinecsierra</a> <a href="https://twitter.com/maria_katzarava">maria_katzaravapic.twitter.com/zJLoVXunIp

— Juan Diego Florez (@jdiego_florez) 25. April 2016