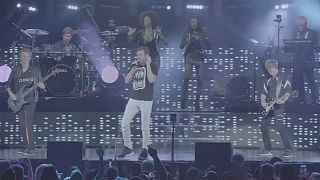 Thirty years on and UK popsters Duran Duran are still pleasing their fans and are heading out on tour to support 2015's "Paper Gods", their 14th studio album.
When they arrived at the fag-end of the 70s scene they were an injection of colour and brash Birmingham swagger into a grim punk-gothic landscape, and have retained more or less the same personnel since then, a rarity in the music business.
"We've come to a great place in our relationships with each other and we are enjoying each others company and that has not always been the case. We are loving the new album, the material off the new album. We're enjoying putting the new material into the show," says bassist John Taylor.
The new album brings the boys back together with Nile Rogers, who produced and played a few of his trademark guitar licks that in the past gave Duran Duran that little something special.
"As this tour starts coming to an end, which will be at the end of the year, that is when we start thinking about how we are going to start picking up in the studio," says Taylor.
"Although, I found myself scribbling something down in my note pad and thinking that it would be a good title," chimes in keyboard player Nick Rhodes.
Duran Duran are on the road right now, and will be until the end of the year.