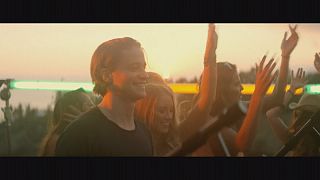 Norway does not cop much clout in the international pop stakes but there are high hopes for producer-DJ Kygo's long-awaited debut studio album, "Cloud Nine".
The 24-year-old classically-trained pianist has already released five singles from this project including the lead cut and global smash hit "Firestone". Since 2014 Firestone's video has had over 240 million YouTube hits.
Kygo, (real name Kyrre Gorvell-Dahll), is particularly excited that for fans they will now be able to see and hear the whole picture.
"I've been working on it for a year and a half, so it's going to be good to get the music out. It's so annoying to make a lot of music and then you can't show it to anyone. So now I can finally show people what I've been working on the last year and a half, so that's going to be a very good feeling."
"Cloud Nine" includes vocals from Tom Odell, Foxes, John Legend and more.
Kygo will be touring and playing at festivals this summer in support of the album, which will contain both his hits and new works.
"Sweden has always been very good with music. They've always had so many great international, big artists, but Norway has been kind of quiet. So it's very cool for me to see that Norway is finally getting some exposure," he says.
"Cloud Nine" is out in May.
Alan Walker
Kygo is not the only Norwegian dance act currently dominating the airwaves. His countryman Alan Walker has achieved a number one hit across Europe with his track "Faded", which has over 260 million YouTube views.
Though Sweden has dominated the Nordic pop music industry for years, there is growing international attention on neighbours like Denmark and Norway.