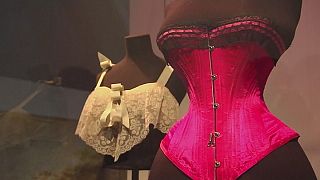 From the functional to the fetishistic – it is all there at London's Victoria and Albert museum's new exhibition entitled 'Undressed'.
Whether it is about covering up or showing off, from Kate Moss's slip to vintage corsets made from string, the show aims to trace the hidden history of underwear.
Featuring more than 200 items made between 1750 and today, it is dominated by women's undergarments but also includes men's.
"Our ancesters wore underwear for very similar reasons to ourselves. For hygiene, for protection, for comfort, but also, if you were among the elite, to shape your body to the fashionable silhouette of the time, and we still do all of this today," says the show's curator Edwina Ehrman.
Waist-constricting corsets run through the exhibition. There are 19th-century models with whalebone stays and one worn by burlesque artist Dita Von Teese with a painful 18-inch waist.
"From certainly the second half of the sixteenth century whalebone starts to be used, and then there's a growing trade in whalebone and almost all corsets from that period on, worn by whatever class of women, are reinforced with whalebone," says Edwina Ehrman.
The history of the bra is also documented at the exhibition, from its beginnings as a bust supporter in the 1860's to its widespread adoption in the early 20th century and the introduction of Lycra in the late Fifties.
"One of the major breakthroughs for underwear, and it also affected corsetry, was the development of a long elastic thread called Lastex in 1931, and that meant you could reduce the number of whalebones in a girdle, or a corset, and that was a major breakthrough. The other huge breakthrough was with Lycra, available to the public from 1959," Ehrman explains.
'Undressed: A Brief History of Underwear' runs at the V&A in London until next March.