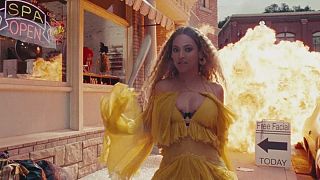 While the world was still mourning the death of Prince, Beyoncé dropped her long-anticipated new album 'Lemonade' on Saturday.
The pop star's sixth studio album arrived with an hour-long film aired on cable network HBO.
A conceptual and visual work, it features songs from the 12-track album along with spoken-word segments tackling issues such as black identity, sexism and marital infidelity.
http://gossiponthis.com/2016/04/24/video-watch-beyonce-lemonade-hbo-album-movie/
Beyoncé makes numerous references to an unfaithful lover, in what seems a direct reference to her husband Jay Z.
"I think it's fair to say that she draws upon the scrutiny of her marriage for inspiration. There's probably no more private couple than Jay Z and Beyoncé, and people want to see what's going on so she's sort of giving a hint at what could be going on but I think in general, 'Lemonade' speaks to the pain that a lot of women go through in relationships in being mistreated, in being taken advantage of, in being cheated on," says Associated Press Showbiz Editor Nekesa Moody.
Musically, the album is eclectic, moving into rock, country and jazz and features collaborations with the likes of Jack White, James Blake and Kendrick Lamar.
The single 'Formation', released earlier this year, is also part of the album which is for sale on Tidal, iTunes and Amazon but will only stream on Jay Z's platform Tidal.
One of the best-selling artists of all time, Beyoncé is also the most nominated woman in the history of the Grammy Awards, and counts 20 to her name.