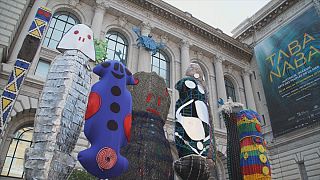 The Oceanographic Museum of Monaco is currently home to a major exhibition by artists from across Australia aimed at raising awareness about the dangers of pollution affecting the oceans.
Named after a traditional children's song 'Taba Naba', the show is divided in three parts spread out over the museum's three floors including the rooftop terrace.
"Prince Albert the First, Prince of Monaco, created this temple of the sea more than 100 years ago in order to unite in one single burst the two driving forces of civilisation – art and science. (In this exhibition), we have decided to focus on the culture of the first inhabitants of Australia: the aboriginals and the islanders of Australia," says Robert Calcagno, CEO of the Oceanographic Museum of Monaco.
Entitled 'Defending the Oceans', the first section is dedicated to monumental installations created by leading Aboriginal and Torres Strait Islander artists.
Brian Robinson was born in the Torres Strait Islands. Climbing along the museum's façade are three mangrove crabs that he has fashioned from aluminum. Found along the coastline of his native island, the crab has been a source of food and a traditional symbol for centuries.
"It's an animal that I grew up hunting as a small child," he explains. "On an average day up in the Torres Strait we would all climb into an aluminium dinghy, take probably an hour's ride in the dingy over to other islands to the mangrove areas, and get out and sink in, actually sink into the mud, sometimes up to your knees, and try to crawl across the mud flats in search of these animals."
Ken Thaiday is famous for his work that incorporates symbols from his native island of Erub (Darnley Island, Torres Strait). His traditional Dhari ceremonial headdresses are vibrant in colour and recall traditional fish traps. The art reveals the close link between the islanders and their marine environment.
"The colour we see on this Dhari represent my people of Torres Strait," he says. "But the Dhari represents everything down here, especially the mangroves, the fish, the fish traps. This represents all that. This is us, the indigenous Torres islanders from Torres Strait. We stand, like this, this is strength. That's what we do."
The second part of the exhibition presents contemporary works by Aboriginal artists, and the third explores the connection to the sea shared by Pacific Islanders. The three form a powerful reminder of the seafaring traditions of island communities.
The most ambitious project ever undertaken on this subject by Indigenous artists in Europe, 'Taba Naba – Australia, Oceania, Arts of the Sea People' runs at the Oceanographic Museum of Monaco until September 30.