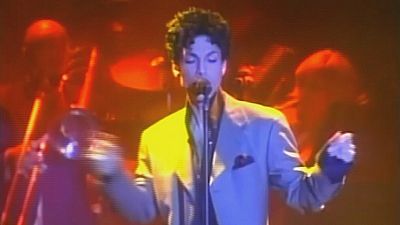 They turned in their hundreds to an impromptu street do and partied like it was 1999 after the news filtered out about the death of His Royal Purpleness, or the artists known as Prince.
He will be remembered for being unique. He was very special. He had his own type of genre. He wasn't like anyone else.
I Miss My Brother. Prince Was A Funny Cat. Great Sense Of Humor. https://t.co/67umQghtbi

— Spike Lee (@SpikeLee) April 21, 2016
Spike Lee brings out big crowd for impromptu Brooklyn street party in honor of Prince: https://t.co/a0DIWCk7ndhttps://t.co/HypOvWefCC

—

ABC

News (@ABC) April 22, 2016
The 57-year-old was found dead at his suburban Minneapolis compound on Thursday.
Everywhere, Prince fans improvised tributes and swarmed to record stores to buy up some of his albums.
"I can't believe it. I can't believe he's not, I'm just in shock," said one fan.
Another said: "He will be remembered for being unique. He was very special. He had his own type of genre. He wasn't like anyone else.
"He was…James Brown wasn't like him. Michael Jackson wasn't like him. He was very unique in what he did. He brought something new that nobody else ever thought about doing."
Prince genre-defying music blended jazz, funk, R&B, disco and rock made him one of the most influential artists of all times
Jem Aswad, a senior editor at Billboard Magazine, paid tribute to the man and the talent: "He was the most deeply-talented musician of this era, or possibly any era, because songwriter, performers, dancer, guitarist, pianist, bassist, drummer, producer.
"He radiated so much charisma and put on these big shows and fostering other acts, writing songs for other people. It was like music just flowed out of him."
As a performer, Prince was known for his flamboyant style and came to be regarded as a sex symbol for his androgynous, amorphous persona, play with gender, and defiance of racial stereotypes
We lit City Hall purple to pay respect to a legend. #PrinceRIPpic.twitter.com/W5fU5A2xqT

— Mayor of Los Angeles (@MayorOfLA) April 22, 2016
Few people knew Prince as well as his first manager Owen Husney, who was the man responsible for securing the contract at Warner Bros records for the young Prince Rogers Nelson at the tender age of 17.
"I think that he was that sort of Beethoven kind of talent, that this is not going to go away," said Husney.
"So I think his greatest legacy is not that he was a rock icon, not that he was like this kind of an icon, but that he was one of the most gifted musical geniuses we've ever seen coming along."
Prince sold over 100 million records worldwide, making him one of the best-selling artists of all time.
I have listened to a lot of music and cried a lot of tears #PrinceGoneTooSoonpic.twitter.com/HhzjKqRn4K

— คlฬคץร คภ๔ Ŧ๏гєvєг (@KlarolineChick) April 22, 2016
He won seven Grammy Awards, a Golden Globe Award, and an Academy Award.