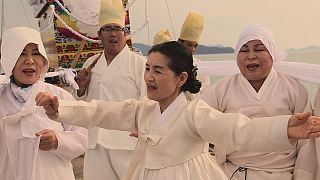 The sitgimgut ceremony is a shamanist ritual for cleansing a dead person's soul that comes from Jindo, a tiny island off the coast of South Korea.
The islands remoteness has helped maintain its musical traditions and rituals in an unusually pure form.
But this living tradition has come to Europe for the first time.
A theatrical form of the ritual was staged in France and Budapest (where we caught up with the Director of the South Korean Shamanistic Theatre).
"Sitgimgut shaman ritual has been a living tradition for many centuries, but it was adapted in the theatre two decades ago only, says Kim Sun-kook.
"The music and songs help the audience to feel the ritual without language borders."
Authentic Jindo shamans, dancers, singers and folk musicians from the remote island are among the performers. The aim is to keep the tradition.
It recently performed in Paris at the Maison des Cultures Du Monde. The Directrice explains why it was so important for her to organize the European tour.
"It is very important today, more than any other time, to understand others who are different from us, says Arwad Esber.
"And understanding the others, who are different from us, helps us to understand ourselves. So the path to myself goes through others who are different."
The shamanistic ritual for cleansing a dead person's soul has different parts. Firstly the ghosts of the dead family members are invited by songs.
Ghosts must be present when a new soul goes to the other world.
Secondly the departing soul has to be freed of all bitterness and resentment. Finally shaman women restore harmony in the community, which has been disturbed by death.