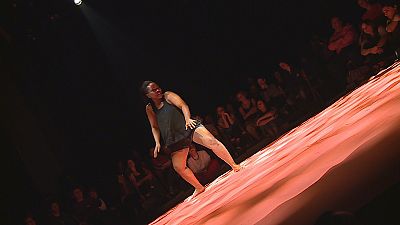 Contemporary dance, theatre, music, film and literature – it's all come to Cairo for the Downtown Contemporary Arts Festival.
The festival is billed as the largest international event of its kind in Egypt.
A dance performance by Nagham Salah, created with Egyptian choreographer Shaymaa Shoukry, has been among the highlights of the fifth edition.
:
"My dance represents an endless circle. Like my whole life seems repeated. I'm trying to get out of this circle. I fall, I rise again and I feel drained. Yeah, that's life," said Nagham Salah.
Shaymaa Shoukry added: "We're trying to see the human-being from different perspectives, to say that a person can't be described based on one feature, he's way deeper than that, regardless of what he shows and what we get from first impressions. Things aren't always black or white, men or women."
She continued: "It's also about expressing the circles in a person's life, that each one of us has his closer circle and his wider and distant one, some see me differently from others."
"Studio Stella" have been stepping up the tempo at the festival. One of the newest acts around, the five-strong group is known for their ability to incorporate different musical styles and influences.
Festival organisers say it's all about breaking new ground each year.
"Each year we invite different artists, and we have different shows. It depends on what's being presented worldwide. Our target is to always explore new places, new performers and so on," said Ahmed Al-Attar, one of the organisers.
The event is also home to traditional entertainment, including Egyptian Shaabi music.
Amid political and social instability, the Cairo festival is all about embracing modernity – and promoting basic rights and freedom of expression.