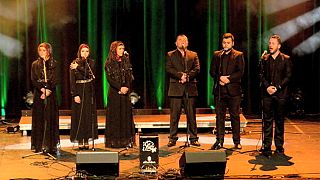 One month after the Brussels attacks and the city's music and cultural scene is back in the swing of things.
The Belgian capital hosted the 10th annual edition of the Balkan Trafik festival, which ran from April 14th to 17th.
It brings together musicians, artists and film makers from the Balkans.
They included stars such as Bojan Krstic, US jazz artist Frank London and Halka from Bosnia-Herzegovina.
Some participants though about pulling out after the twin bombing on March 22nd, but many musicians praised the organisers' decision not to cancel.
"I was afraid that the festival would not take place in the beginning. And I am very happy that it does take place. Its very important to maintain cultural events, because its a fight between light and darkness. And we have to keep fighting for it," said Jawhar, a Belgian-Tunisian musician.
Organisers say, however, that visitor numbers were down by 35 percent from last year.
They say nearly 4,000 people took part in this year's festival.