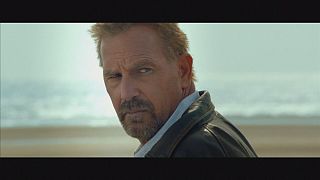 Death row inmate Kevin Costner gets a memory implant in "Criminal", not to remember how to make a hit movie again, but as a sort of hard disc for a dead CIA operative who has vital information to hide.
CIA suit Gary Oldman gets Tommy Lee Jones use his experimental neurosurgery to get the memories back.
The film is directed by Israeli Ariel Vromen whose 2012 breakout hit was biography crime thriller "The Icemen", based on the life of American real-life contract killer Richard Kuklinski.
The film premiered in London, where most of the movie was shot.
"The level of violence and spontaneity that was, that was kind of authentic that I thought that I would try to bring to it, you know the look. It's not something on paper I think someone attaches my name to, just when you read the thing, you know. But there was a moment in time when I knew I could play this guy," said Kostner.
"I am carrying some memories from the past, I think you too, so you know if we can scrub those and get some new ones may be we would be better people," says Vromen.
The widow of the dead CIA agent is played by Israeli actress Gal Gadot, known since 2009 for her role as Gisele in 'The Fast and the Furious' franchise. She said the very first scene she acted alongside Costner was memorable.
"The first day I came on set I had to do a scene with Kevin. And Kevin walked to me and he said 'Hey, I'm Kevin nice to meet you' and I said 'I am Gal, I am big fan of yours'. He said, 'I hope you're ok with it but we're going to shoot our first scene, I am going to try to rape you right now'. I said, 'That would be lovely, yes, let's go for it' and that was our welcome first day scene," said Gadot.
An international cast includes American Michael Pitt, Spain's Jordi Mollà, Puerto Rican actor Amaury Nolasco, English actress Alice Eve and Germany's Antje Traue.
The action thriller goes on international release from the 15th of April.