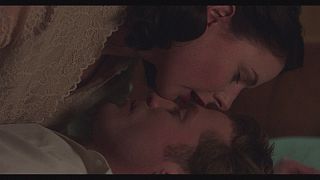 A sign of the times for sure, but after years in hibernation the Cold War thriller is back, and the latest addition to the genre is "Despite the Falling Snow", adapted for the screen from her own novel by Briton Shamim Sarif.
Taking the lead role is Swedish actress Rebecca Ferguson, who after being a soap opera star at home shot to prominence in the latest "Mission Impossible" movie after catching Tom Cruise's eye for her turn in the BBC's "The White Queen".
"I think it's just super king cool to be a spy, isn't it? The stakes are so high. You get to flip from a good side to a bad side. The audience doesn't know where we have the person. It's unexpected. It's unpredictable. That's what I love," she says.
Unusually, Ferguson plays two characters, as decades later she plays her own niece, wondering at her aunt's disappearance.
"I'm portraying two different women from two different times with different accents and yeah, just try and get it right really. But I was lucky enough to have the director, who also is the author of the book, to be there, which means that I have the source of all the knowledge right in front of me."
The film is set in New York and Moscow, but was filmed in the Serbian capital, Belgrade, and looks pretty convincing masquerading as both.
"It's an incredible, interesting country. These people have had war and there's still sadness and there's greyness in the air, in the ambiance, still, which was needed for the film," says Ferguson.
The film got an early Spanish release but is now rolling out elsewhere.