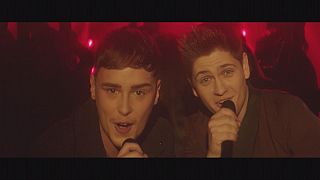 It's been a whirlwind twelve months for Joe and Jake.
After competing against each other on UK TV talent show 'The Voice', the pop duo is about to take on the rest of Europe at the Eurovision Song Contest.
The pair also recently signed a record deal with music giant Sony.
"We've been working together ever since 'The Voice,' and we were looking for different options of how to announce ourselves as a duo and we had a manager on board and we sat down and just sort of thought, 'Ηow can we do this?' And then Eurovision, the You Decide competition came up, and we thought that would be perfect, and luckily we got the slot to represent the U.K. and we're really excited," says the band's Joe Woolford.
Joe and Jake will be performing their song, 'You're Not Alone', at the grand final in the Swedish capital Stockholm to a global audience of around 180 million viewers.
The Eurovision Song Contest can either make or break budding pop stars – last year's U.K. act, Electro Velvet, scored just five points. But the boys say they're delighted to be taking part in the competition.
"This is just another step in our careers, something that we've been working on very hard towards and I think, regardless of what we do, we've made the decision to do this together and we're very proud to be in the position that we're in," says Jake Shakeshaf. "You know, I think it's a great time to be a part of Eurovision this year. It's in Sweden, Sweden take it super seriously, they've produced some incredible acts as well. So we're really looking forward to going out there and seeing what they can put on."
The Eurovision Song Contest final takes place on May 14 at Stockholm's Ericsson Globe arena.