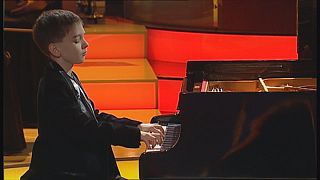 A Hungarian TV talent show that uncovers young classical musicians is going global.
The first season of Virtuosos was a huge hit for Hungarian state TV back in 2014, and recording is currently underway for the second season. The programme's creators have signed a deal with Dick Clark Productions (DCP), the world's largest producer and proprietor of televised live events and entertainment programmes, which is behind events like the American Music Awards and the Golden Globes.
Virtuosos founder and producer Mariann Peller said she was motivated by the fact that few young people were listening to or performing classical music. She told Euronews she is delighted her programme is being replicated elsewhere.
"Stepping onto the international market is a dream come true for me, as the Virtuosos is the kind of show which has real value," she said. "We discover the talents instead of creating them and we are very proud that this is about to happen in other countries and that we are taking this big step forward."
"It's the type of thing that's uplifting television," DCP's Mark Rafalowski told Euronews. "It's what I believe broadcast channels should look at more because you are attracting multiple audiences, multiple generations and in the end it's good TV but entertaining."
The winner of the first series was 11-year old Mihály Boros. He says he is proud not only about winning but also because the show brought classical music into people's homes. After the show, 14 percent more children applied for music schools. Winning the show also opened up a whole new world for the young pianist.
"After Virtuosos ended I was invited to a lot of concerts. Last year I gave 82 concerts, I played in New York and Tokyo, I had the chance to travel to a lot of places," he told Euronews.
On a recent visit to Hungary, tenor superstar Placido Domingo praised the programme for allowing young classical musicians the chance to compete in a type of program usually reserved for pop music.
Dick Clark Productions has said there's interest in the show from China and Japan and the company is working on a deal with U.S. networks.
Future editions of Virtuosos aim to discover talents in jazz, world music, conducting and film score composition, among other categories.